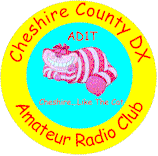 CCDX ARC
WebSite News
This Page contains info on most site changes and updates beginning with the most recent items at the top of the list.
To be notified when the site has been updated, Click this link to open the ChangeDetection wizard. The URL you will need to enter is:
http://www.ccdx.org/sitenews.htm
The easiest way is to Highlight the above URL, "Right" click your mouse and select "COPY" first. Then click on the link and then "Right" click your mouse in the "ENTER URL" box and select "PASTE". Then enter your complete E-Mail address.
03/17/06 Added Foxhunt rules & regs page.
09/26/05 Updated Calendar and included rules URL's for each contest.
08/01/05 Added For Sale Page, and updated main index page.
02/27/05 Added VE Session info page, Updated calendar, re-wrote intro page, dumped the forum portion a couple weeks ago due to lack of use and a hack.
09/19/04 Updated most of the site. Updated 53.73 page, updated Calendar. Added small audio clip to main pages transitions.
08/30/03 Added SWNH page
07/09/03 Added first Audio to Nav Bar
05/05/03 Added Forum(s)
05/03/03 Began working on Forum/BBS. Located at: www.ccdx.org/forum
04/22/03 Added "New" 805 page w/link to former page, now called 805history.
03/17/03 Complete Web Backup onto CD.
03/05/03 Added Guest Book
02/10/03 Added MT Washington Fire page in the Scrapbook.
02/02/03 Major overhaul of Event Calendar
12/18/02 Added Dec 02 Aerial, Updated WK1P Sweeps and created Markem Repeater page.
11/11/02 Edited Scrapbook and repeater info pages.
07/14/2002 Added new members and rewrote members page, added kc5wxc forest fire and mpeg of 2001 SS contest to Scrapbook.
05/19/2002 Added Apr 02 Aerial, updated members page.
05/05/2002 Added latest CCDX Meeting pics and Hoss02 Pages
04/05/2002 Moved site - again - to another Hosting company. burtonhosting.com
01/28/2002 Moved site to new domain ccdx.org
08/30/2001 Major update of Calendar of Events Page.
07/14/2001 Finally completed the FD 01 page.
07/08/2001 Created Bike Race traffic page, updated FD01 (still more to do on that, had to resize a bunch of photos to make them manageable) and finished feast 10 pages.
07/01/2001 Added info to TQY repeater page, and index page about contributions.
06/26/2001 Added June 2001 Aerial and Field Day 2001 Pages.
06/12/2001 Completed VHF2001 contest page. Updated a few others.
06/04/2001 Added preliminary VHF contest page in scrapbook.
05/26/2001 Added beginning page of the 805 move. A few minor site changes.
03/11/2001 Moved entire site from Angelfire over to F2S servers for testing.
02/25/2001 Added New Members, (Added Hosstraders Maps to LINKS page last week) Created Tower brush cutting page (Scrapbook) and Ham Feast page (Scrapbook). Added info about pending repeater move on 805 page.
02/11/2001 Added Custom Icon when bookmarked.
01/15/2001 Updated w1eek profile and edited index page.
12/15/2000 Added navigation links to bottom of navbar webbot.
10/24/2000 Created By-Laws page, not public yet.
10/14/2000 Updated Calendar, added NH SET info.
10/10/2000 Updated Calendar, added June 2000 Aerial
10/5/2000 Added items to Calendar of Events Page.
10/01/2000 Updated member status.
09/29/2000 Finally got FrontPage straightened out so that I can edit the site again. Had to disable and then re-enable FP Extensions. Also, lost the background on most of the site.
03/05/2000 Created Field Day 2000 page listed on Scrapbook. Updated Calendar page. More info on 805. Finally able to edit stuff again due to server problems.
07/12/2000 Updated Members Page, Added more info about 805, Created ZedYX 6 meter repeater page.
05/06/2000 Added info about .805
04/08/2000 Added HF Webradio link and DB Products Antenna Calculator links
04/04/2000 Finished Feb and Added Mar Aerial
03/19/2000 Changed a couple E-Mail addresses and added new member.
02/19/2000 Updated Jan Aerial, Began Feb Aerial. Created CCDX Contest link from LINKS page. Updated members page.
02/13/2000 Major Change to Pages...Completely moved site to the Angelfire servers.
01/31/2000 Added some cool Cursors. Check 'em out...
01/30/2000 Wrote short profile for wa1zyx.
01/29/2000 Finally figured out the "mouse-over" stuff. Needed to insert a component as opposed to
trying to use DHTML as I had been.
01/22/2000 Updated WK1P Members links, started Jan 2000 Aerial Page.
01/18/2000 Worked on Links page.
01/15/2000 Updated Members Page. Created Profile
01/06/2000 Created APRS Scrapbook page. Also added some other Scrapbook stuff.
Worked on the Mouse-Over stuff again.
01/02/2000 Created a Form to try and see if this will work.
12/31/99 Edit photos and home page stuff on Members page. HAPPY NEW YEAR!!!
12/28/99 Added some META stuff to index page.
12/19/99 Tried some Mouse Over stuff -- Didn't work. Font Colors Change and inserted Hit Counter on Main Page. Digits will expand as hits accumulate.
12/18/99 Created K1ZO Tower Page (Scrapbook), did some photo manipulation of other.
12/17/99 Scrapbook, members pages changes.
12/16/99 Began Scrapbook rebuilding. Ariel Archives and more profiles.
12/13/99 Updated Members Page. Switched E-Mail list to Home Pages and
incorporated E-Mail tags with Call signs.
12/11/99 Began Scrap Book Page.
12/08/99 Updated Calendar page
12/07/99 Updated Info Page again & Members Page. Also began Profiles.
12/04/99 Started Info Page.
11/30/99 Site Re-Build started.

Home | Info | Newsletter | Calendar | Members | Scrapbook | Links | Site News | 146.805 | For Sale

Questions or suggestions about this WebSite should go to the WebMaster

View My Guestbook
Sign My Guestbook


Friday, March 17, 2006