| | |
| --- | --- |
| | Cheshire County DX ARC |

Sweepstakes
SSB at WK1P
Every 3rd or so weekend in November, WK1P Hosts the "Annual" Sweepstakes contest from his place in Walpole, NH. And typical of every other year that we've been doing it from here over the past 10 or so years, we manage to get a sweep! Yippee! (Sweep for those that don't know, is when a station finally manages to work a station in every ARRL defined section and Canadian Province.)
One year in particular was really cool, cause we were right down to the wire, I mean literally seconds before the contest ended and WA1ZYX was at the mike "tying the ribbons" on things when he managed to work the last section needed for a sweep. That was sooooo cool! We all cheered, and then the beer began to flow -- a little more heavily than it had been all during the contest...
WK1P at the Mic...
One Papa One Papa..... N1KWF at the helm below.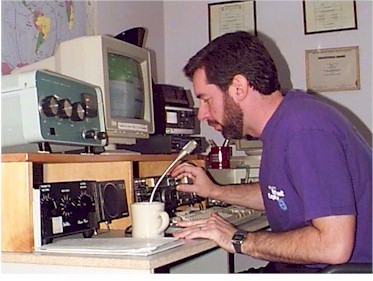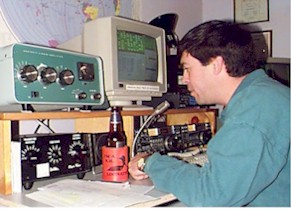 And finally WA1ZYX seeing just how well he can do....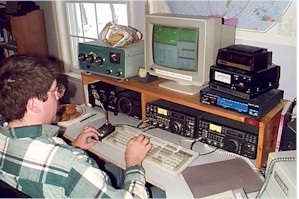 ZedYX in 2002.... Not much has changed, except maybe the shirt.....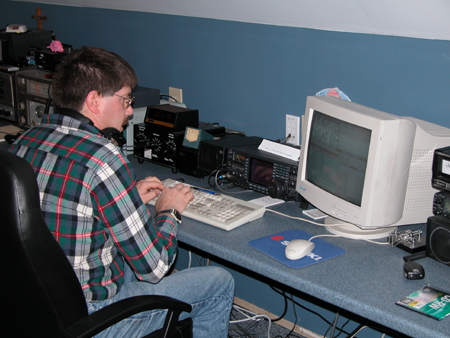 Home | Info | Newsletter | Calendar | Members | Scrapbook | Links | Site News | 146.805 | For Sale

Questions or suggestions about this WebSite should go to the WebMaster

View My Guestbook
Sign My Guestbook


Wednesday, December 18, 2002