| | |
| --- | --- |
| | Cheshire County DX ARC |

Cheshire County NH Ice Storm of 2008
It all began on Thursday morning, December 11, 2008 around 1:30am when the temperatures dropped a little and it began freezing rain just a little. By Thursday mornings commuter traffic began, the roads were all covered with about an inch of sleet. As the day progressed, so did the nasty weather, although mostly in the form of just rain, but temperatures were right on the edge. However, that was at the lower elevations of Keene. By the evening commute, things were a lot different.
As the evening wore on, so did the icing conditions. The car wrecks had already started and the fun was really just beginning. Trees were beginning to lay across power lines and lines were beginning to come down. This continued all through the night into Friday morning.
By the time I had received my first phone call, around 5am on Friday, lots of areas already had some serious problems, and by the time I had to leave for work around 6:30am, it was then that I found that the 443.8 UHF Keene repeater was off the air. The local 2m repeater .805, was already beginning to have some emergency traffic, but it's been in RF trouble for a while now, suffering from our favorite ailment -- intermod!!
So, after I got out of work at 3p, and hearing that more and more traffic was happening, I figured I ought to get the UHF repeater going as well as the other 2m repeater WK1P/R on .03.
I began asking who had a generator available, and was directed toward Cliff - N1TGB. A quick call to him and he and his son Stephen - KB1MRE had one all gassed up and heading to Keene. Larry - KA1VGM was scurrying around rounding up extension cords and a couple cans of extra fuel from Jim - KB1NXE. (Thanks guys!)
I got up to the tower first with the generator so I unloaded that and brought it around behind the building while waiting for Larry to arrive. All the stations that do have backup generators were on the air and all the generators were just screaming along. When I entered the repeater room, NHPR was on the air, and it was nice and warm in there, despite the 15 degree temps outside. I was optimistic that I might be able to plug in to their power strip, as that rack is right in front of the UHF repeater rack. So, I placed a phone call to Concord to inquire from the chief engineer (Whom I know) if I could do that, and was denied. Kind of surprised me, but oh well.... So it goes. Back to plan "A".
After Larry arrived, we went to work fishing extension cords through cable entry ports, got the generator started and 443.8 and 147.03 came back to life. This was about 7pm give or take. Around 11p I went back to the repeater site to check things for the night, found everything still chugging along just fine so I secured for the night.
I headed back up around 9am on Saturday to top off the fuel and met up with the RF Engineer for one of the FM's up there. (We've known each other for years.) We had a very nice chat about stuff, both new and old and all the other stuff that he has to try and get going. Long story short, thanks to his generous offer and WKNE, we won't have to mess around with a generator again!!
Also, while I was heading up on Saturday, I thought I take a few pictures: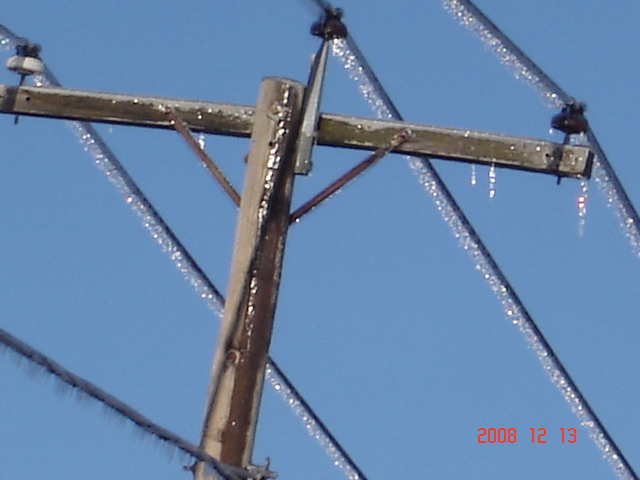 These are the power lines along County Rd in Walpole. They look like they're in pretty good shape. Just a little ice.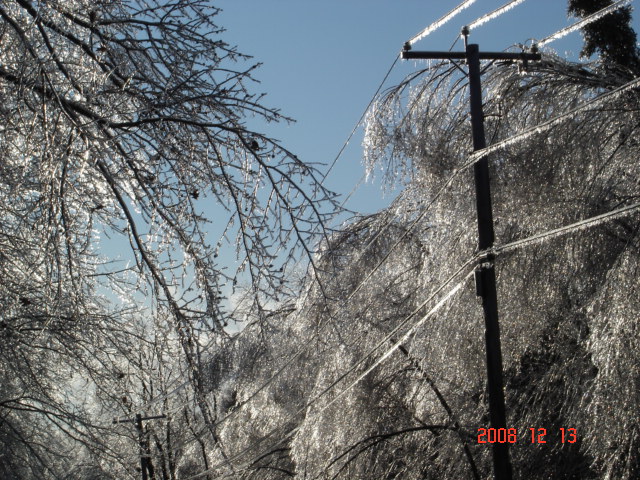 Perhaps this is why the power is out at the tower.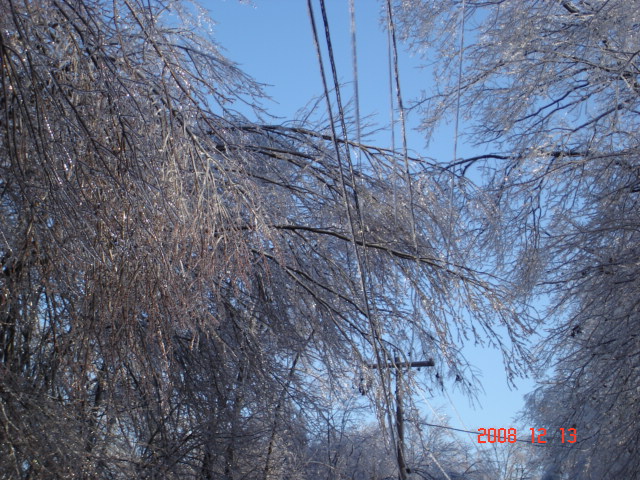 Or maybe this might be the problem....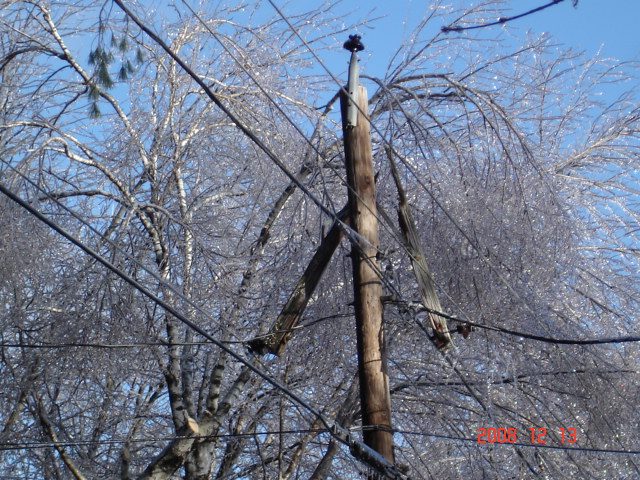 I suspect this may have contributed to the outage as well.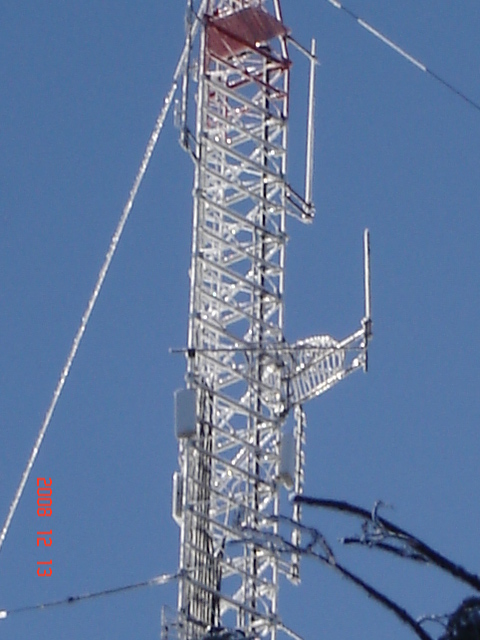 The top of the tower showing the UHF repeater antenna (Top Right) all ice covered.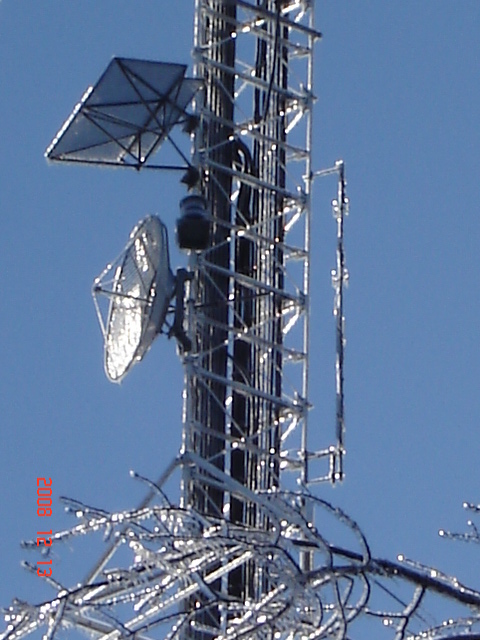 The halfway point.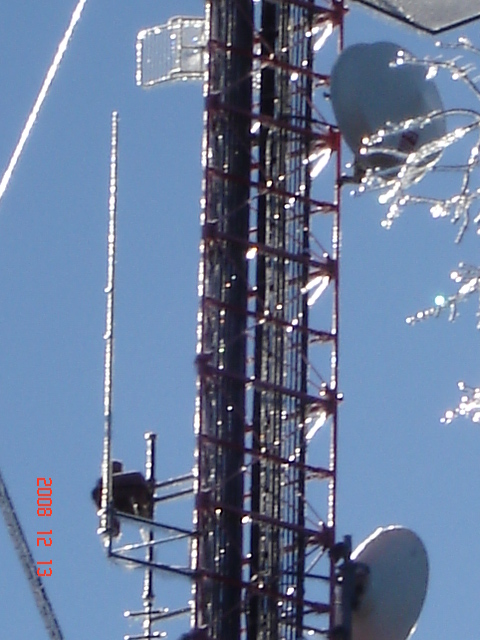 A little lower.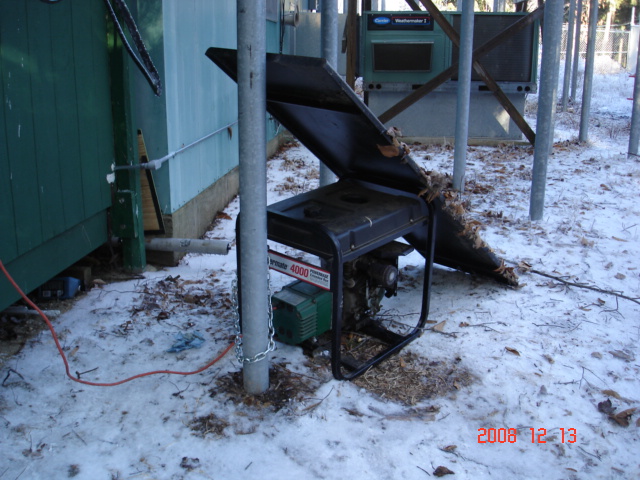 The Generator keeping us ON THE AIR!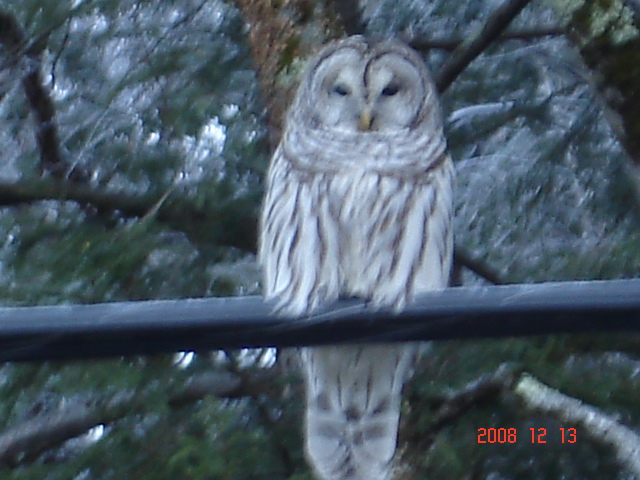 And apparently, even this job needed a supervisor....
There may be more photos posted as they become available... but this was the start of the adventure.

Home | Info | Newsletter | Calendar | Members | Scrapbook | Links | Site News | 146.805 | For Sale

Questions or suggestions about this WebSite should go to the WebMaster

View My Guestbook
Sign My Guestbook


Saturday, December 13, 2008