| | |
| --- | --- |
| | Cheshire County DX ARC |

Part 2 of relocating "Henry", The Re-Building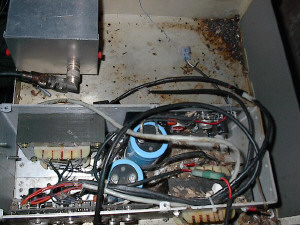 The rebuilding process went fairly quickly - once we got moving. As you can see by the above photo, there was a good deal of cleaning up of the equipment that had to be completed first. Having the repeater equipment mounted in an open frame rack provided lots of opportunity for critters to leave us little gifts.
Anyway, the repeater was moved down to Dales (N1NCI) garage and he did the majority of cleaning and re-mounting of stuff. All the equipment was removed from the old rack, cleaned up and re-mounted in a really nice completely enclosed rack that Dale came up with. The repeater originally had two power supplies, the one above which supplied juice to the components that didn't require much current, like the exciter and link radios, while the large one supplied power to the PA.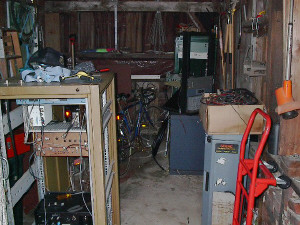 After the repeater was put back together, we only used one supply, with provisions for battery back-up on the controller, so it wouldn't loose it's mind during a power failure. The repeater's new home has emergency power, so the repeater will continue to operate after the generator starts and comes on line.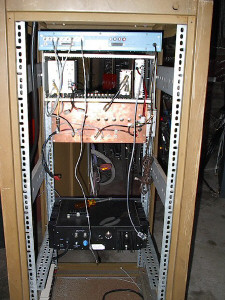 As you can see from the above picture, the new rack is a lot nicer than the old one! The picture above shows the repeater from the rear and the PA isn't even mounted in there yet. Also the wiring hasn't been harnessed yet.
Stay tuned for Part 3 - Re-installation of the new and improved "Henry".

Home | Info | Newsletter | Calendar | Members | Scrapbook | Links | Site News | 146.805 | For Sale

Questions or suggestions about this WebSite should go to the WebMaster

View My Guestbook
Sign My Guestbook


Friday, March 18, 2005 03:02 PM