| | |
| --- | --- |
| | Cheshire County DX ARC |

Club Profile of Amateur Radio Station
WA1ZYX
Hi, My name is Joel, and I have been an Amateur Radio Operator since 1976. I hold an Extra Class license.

This little fella next to me is Mr Austin and the picture was taken after working on the CCDX APRS system.

I have been involved with active Law Enforcement for very close to 20 years now and still love it!

I also was a full time TV Broadcast Engineer for quite a while and repair TV Transmitters.
Hobbies include: My three UHF repeaters that I have scattered around NH - for more info on these, please see my Home Page. I also have a ton of Packet stuff.
I currently am the WebMaster for the CCDX ARC Web Site and enjoy writing Web Pages. Oh, and I really ought to mention that I really enjoy my Wife - KA1QFA - and life with the two boys.
This is one of my Amateur Radio accomplishments that I am most proud of! My CSCE for Element 1C - the 20 WPM Code Test! WOW - Never thought I'd ever pass this one! See what you can accomplish when you really "want" something?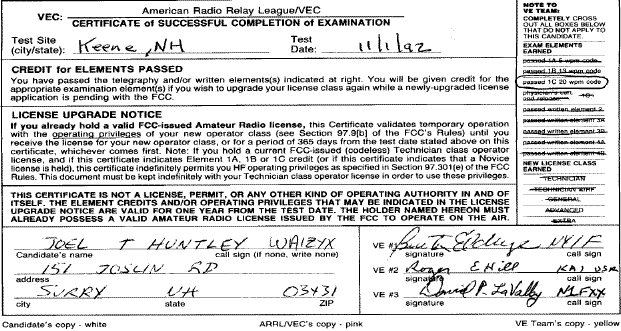 Home | Info | Newsletter | Calendar | Members | Scrapbook | Links | Site News | 146.805 | For Sale

Questions or suggestions about this WebSite should go to the WebMaster

View My Guestbook
Sign My Guestbook


Friday, March 18, 2005 03:02 PM